THE LEGEND OF CHIANTI

(Cherokees Great Grandsire)

Many years ago, the Regina Winery of Southern California imported a small herd of Miniature horses from the Falabella Family in Argentina. Among those horses was an appaloosa stallion that the Winery named "Chianti" after one of their prized wines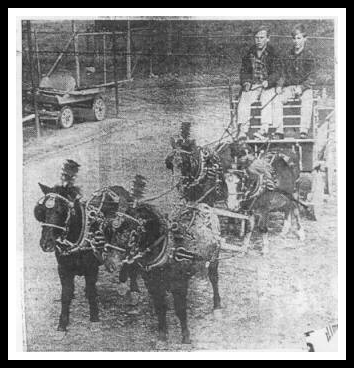 .

This truly unusually colored horse became quite an attraction for the Winery. They used him as part of their famous Mini-Winery Wagon Hitch seen in so many Southern California Parades.
(Shown on the left are Chianti and Regina at the head of the hitch.)
Chianti was also the sire of the first mini foal born to the Winery herd.

When the Winery closed its doors, there were a great many buyers for their mares and pinto stallions since they were very popular at the time. But only one person could see the potential of this unusual leopard--that person was Dixie Blasinghame of Vista, California. She saw what Chianti could become and knew how to bring it out. Under her care and management, Chianti began a show career that brought home many halter and performance champion wins.

Chianti's show ring wins were overshadowed only by his abilities as a sire. With careful planning of breedings, he began to sire foals of exceptional beauty, color, and performance ability. This is what made Chianti the top producing miniature appaloosa in the world.

He was a magnificent little horse. His size was the only small thing about him. A true "good will ambassador" for his breed, he had a gentle nature and was a devoted mate and attentive father. He was allowed to live AMONG his mares and foals. His famous heritage, championship show career and abilities as a sire made Chianti a living legend.

Those who never saw him will never know how magnificent he really was, for pictures simply cannot capture his beauty.

To Dixie, who saw the potential of the "little spotted horse" and brought him to prominence in the mini world, "Thank You." Those of us who knew and loved Chianti share your sorrow at his passing. We hope that his many foals will carry on . . . "the legend of Chianti."

We loved him too!
Written by Rod and Dela Anderson
It is documented that John Ellena, one of the brothers who owned the Regina Winery, had 12 Falabellas imported in 1962 to his farm in California.
When the twelve were originally imported, the Argentine pedigrees were not recorded and have not been found as of yet.
Research has found the following horses, most probably, to be the original imports: (10 horses are listed , two could not be identified - presumed died before registering or were geldings and never registered)

1014P Senor brown/white pinto 30"

1015P Chianti appy 32" IMHR 100014B

1019P Barberra black 34"

1020P Angelico white 33"

1021P Pearlette white 34"

1023P Sherry chest flax 34"

1024P Champagne dk chst 34"

1025P Senorita dk chest flx 33"

1026P Regina black 33"

1027P Morsola black 33"


The original six horse hitch consisted of Senor, Chianti, Regina, Sherry, Champagne and Senorita. Other horses used in later years were Grenache, Burgundy and Barberra.